Archaeologists working on the Dampier Archipelago, just off the West Australian coast, have found evidence of stone houses dated to shortly after the last ice age,
between 8,000 and 9,000 years ago - making them the oldest houses in Australia.
The Dampier Archipelago is a group of 42 islands, and on one of the islands, the team uncovered knee-high rock walls.
"Excavations on Rosemary Island, one of the outer islands, have uncovered evidence of one of the earliest known domestic structures in Australia, dated between 8,000 and 9,000 years ago," said lead researcher Jo McDonald, from the University of Western Australia.
"This is an astounding find and has not only enormous scientific significance, but will be of great benefit to Aboriginal communities in the area, enhancing their connections to their deep past and cultural heritage."
The researchers suggest that the structures' inhabitants used branches or other plant material to make the roofs. The houses are also quite sophisticated, with multiple 'rooms'.
"Inside the houses you have separate areas - it could have been a sleeping area and a working area. There is evidence of people grinding seeds on the rock floors inside the houses as well as shell food remains," McDonald told Paige Taylor from

The Australian

.
"We don't really know what they were used for as these types of structures were not used in the historic periods."
This particular structure should help researchers to investigate how Aboriginal groups lived after the ice age – a time where sea levels rose 130 metres, at a rate of 1 metre every five to 10 years. This would have eventually cut the Archipelago islands off from the mainland.
"We assume they were a way of marking out social space for groups living close together as the sea level rose after the ice age, pushing groups inland into smaller territories," says McDonald.
"While these people were hunter gatherers, these structures suggest people were developing social strategies to be more sedentary, to cope with environmental change."
The team discovered the houses back in 2014, but they have only recently been dated using shells of edible mangrove gastropods found inside.
Although the researchers haven't yet published a paper, so we can't get too excited until then, there should be more information released as the team find it, and they will hopefully publish a paper in the next few months.
Murujuga, which includes the islands and the nearby Burrup peninsula, are also hugely culturally important to the Aboriginal people in the area, and important for researchers trying to understand the past. A number of interest groups are pushing for Murujuga to become World Heritage listed.
"As well as containing more than one million rock engravings of great scientific and cultural significance, the Archipelago is home to one of the country's largest industrial ports," McDonald said in a statement today.
She says that research from the last 12 months indicates that there was human occupation in the area dating back 21,000 years, even before the last ice age.
Just 100 km west, on Barrow Island, researchers have also found evidence of human occupation dating back 50,000 years.
According to McDonald, although there are similar structures around Australia, the houses on Rosemary Island are the oldest found.
We hope this valuable area will be protected for many years to come.
Evidence of 9,000-year-old stone houses found on Australian island
The Dampier archipelago. The evidence of stone houses dating back 9,000 years adds to the case for the area to get a world heritage listing. Photograph: Graeme Robertson for the Guardian
Archeologists working on the Dampier archipelago off Australia's north-west coast
have found evidence of stone houses dating back 9,000 years – to the end of the last ice age – building the case for the area to get a world heritage listing.
Circular stone foundations were discovered in on Rosemary Island, the outermost of 42 islands that make up the archipelago. The islands and the nearby Burrup peninsula are known as Murujuga – a word meaning "hip bones sticking out" – in the language of the Ngarluma people.
Prof Jo Mcdonald, director of the centre for rock art research and management at the University of Western Australia, said the excavations showed occupation was maintained throughout the ice age and the period of rapid rise in sea levels that followed.
"Around 8,000 years ago, it would have been on the coast," McDonald told Guardian Australia. "This is the time that the islands were starting to be cut off and it's a time when people were starting to rearrange themselves."
The sea level on Australia's north-west coast rose 130 metres after the end of the ice age, at a rate of about a metre every five to 10 years. "In people's lifetimes they would have seen loss of territory and would have had to renegotiate – a bit like Miami these days," McDonald said.
The placement of the stone structures indicated how that sudden space restriction was managed, she said. "The development of housing is really significant in terms of understanding how people actually divided up their space and lived in close proximity to each other in times of environmental stress."
Research done in the past 12 months had found evidence of human occupation in Murujuga dating back 21,000 years, or before the last ice age, said McDonald.
Earlier research on Barrow Island, about 100km west, found evidence of human occupation dating back 50,000 years.
McDonald said the latest discovery helped build the case for the area to gain a world heritage listing.
The Western Australian government is facing increased pressure to support a world heritage application for the area, which has been on the national heritage register since 2007.
It was assessed as meeting Unesco's six world heritage criteria in 2011 but a formal nomination cannot be made without the support of the state government. The premier, Colin Barnett, said last month that the area would "probably be a world heritage site at some stage".
"Our responsibility now is to protect these rock carvings and also make it possible for people to come and see this extraordinary place," he said.
Ever seen WA's ancient rock carvings at the Burrup Peninsula? An extraordinary place we are committed to preserve. pic.twitter.com/JFKhsM22ED
There are 2,500 registered Aboriginal heritage sites on the Burrup peninsula and surrounding islands, which are located near Karratha, 1,525km north of Perth.
The area is also home to the US$2bn North West Shelf gas project, the largest oil and gas development in Australia.
The entry to the largest heritage site, a valley containing close to a million rock carvings dating back 40,000 years, is within a kilometre of a fertiliser plant. Last year the WA government removed a large umbrella heritage listing for the peninsula because it complicated development applications.
The research done by McDonald and her team was co-funded by Rio Tinto, which has a mining lease within the national heritage area, and Murujuga Aboriginal Corporation.
McDonald said the state heritage management had been "really hotchpotch" but that existing industry could be co-managed with a world heritage site, providing suitable buffers were put in place.
Indigenous Australians most ancient civilisation on Earth, DNA study confirms
Clues left in genes of modern populations in Australian and Papua New Guinea enable scientists to trace remarkable journey made by first human explorers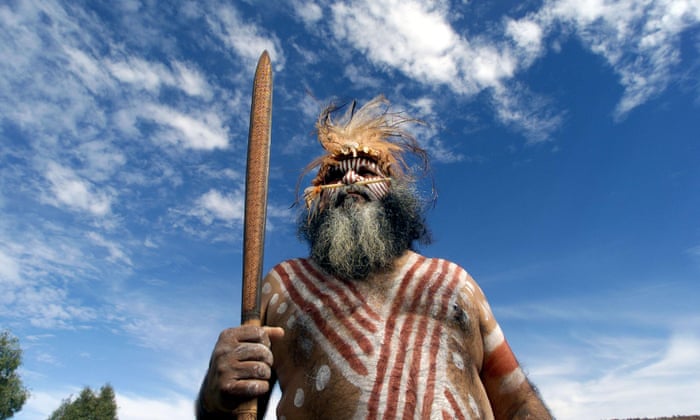 Claims that Indigenous Australians are the most ancient continuous civilisation on Earth
have been backed by the first extensive study of their DNA, which dates their origins to more than 50,000 years ago.
Scientists were able to trace the remarkable journey made by intrepid ancient humans by sifting through clues left in the DNA of modern populations in Australia and Papua New Guinea. The analysis shows that their ancestors were probably the first humans to cross an ocean, and reveals evidence of prehistoric liaisons with an unknown hominin cousin.
Prof Eske Willerslev, an evolutionary geneticist who led the work at the University of Copenhagen, said: "This story has been missing for a long time in science. Now we know their relatives are the guys who were the first real human explorers. Our ancestors were sitting being kind of scared of the world while they set out on this exceptional journey across Asia and across the sea."
The findings appear in one of four major human origins papers published in Nature this week, which together give an unprecedented insight into how humans first migrated out of the African continent, splintered into distinct populations and spread across the globe.
Willerslev's findings, based on a new population analysis of 83 Indigenous Australians and 25 Papuans, shows that these groups can trace their origins back to the very first arrivals on the continent about 50,000 years ago and that they remained almost entirely isolated until around 4,000 years ago. "They are probably the oldest group in the world that you can link to one particular place," said Willerslev.
En route to Australia, early humans would have encountered a motley assortment of other roving hominin species, including an unknown human relative who has now been shown to have contributed around 4% to the Indigenous Australian genome. Previously, scientists have discovered that prehistoric couplings have left all non-Africans today carrying 1-6% of Neanderthal DNA.
Willerslev said the latest findings added to the view that Neanderthals and other now extinct hominins, traditionally portrayed as low-browed prehistoric thugs, were "in reality not particularly different" from our own ancestors.
Adding to this picture, a second study found that the advent of modern human behaviours around 100,000 years ago, indicated by cave art and more sophisticated tools, does not appear to have been accompanied by any notable genetic mutations.
"Your genome contains the history of every ancestor you ever had," said Swapan Mallick, a geneticist at Havard Medical School who led the analysis of the genomes of people from 142 distinct populations.
The study also suggests that the KhoeSan (bushmen) and Mbuti (central African pygmies) populations appear to have split off from other early humans sooner than this, again suggesting that there was no intrinsic biological change that suddenly triggered human culture.
"There is no evidence for a magic mutation that made us human," said Willerslev.
Chris Stringer, head of human origins at the Natural History Museum in London, said the findings would be controversial in the field, adding: "It either means that the behaviours were developed earlier, they developed these behaviours independently, they acquired them through exchanges of ideas with other groups, or the estimated split times are too old."
Willerslev's study also resolves the apparent discrepancy between genetic findings implying that Indigenous populations have been in Australia for tens of thousands of years and the fact that the languages spoken by these populations are only around 4,000 years old. "You see a movement of people spreading across the continent and leaving signatures across the continent," said Willerslev. "That is the time that this new language has spread. It's a tiny genetic signature. It's almost like two guys entering a village and saying 'guys, now we have to speak another language and use another stone tool and they have a little bit of sex in that village and then they disappear again."
Aubrey Lynch, an Indigenous elder from the Goldfields area, said: "This study confirms our beliefs that we have ancient connections to our lands and have been here far longer than anyone else."