"I Saw Structures on the Moon"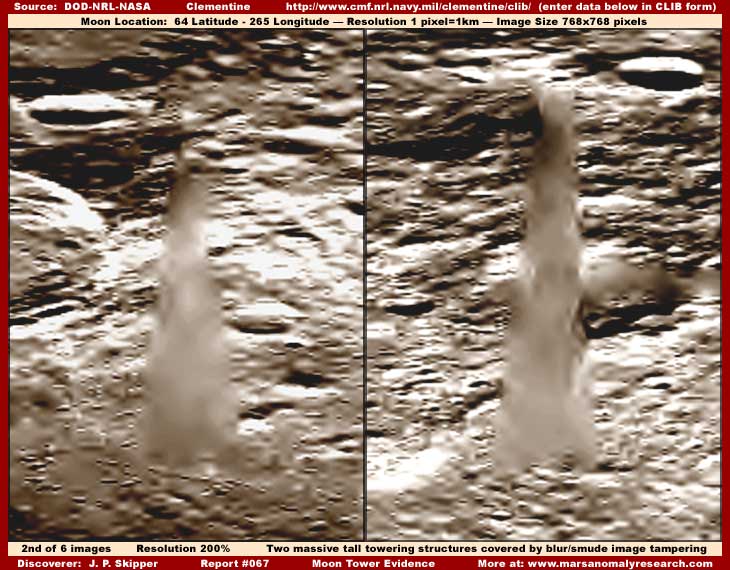 'The following account has been addressed several times before, and I have had it in my notes for quite some time. The recent interest in the Space program, and questions about our future goals in space have caused me to dust it off. I believe it will be of interest to our viewers.
This extraordinary story comes to us from one Karl Wolfe
. Wolfe worked for the Director of Intelligence at Headquarters Tactical Air Command, Technical Group. The fantastic events explained here occurred while he was stationed at Langley Field, Virginia.
Langley Field was center for information received from the Lunar Orbiter Project. Satellite receivers from around the world waited for information from the Orbiter, and it was then channeled to Langley, where the information was transformed into photographic images, and other top-secret data. The photographic imaging was done at a secure military lab ran by NSA. In an interview for UFO magazine, Wolfe asserted that he was one of only two technicians at Langley with high enough security clearance to work with the high-tech photographic equipment which processed info from U-2 spy planes, and other military intelligence hardware.
Wolfe, in his own words:
... At any rate, I was in a color lab one day when my boss, Staff Sergeant Taylor, came over to me and said that they were having a problem with some equipment on the base an it was the first lunar orbiter program, where thy had a mission to pretty much locate the first landing sites for the 1969 lunar mission for the astronauts.
So he said they were having some problem with equipment over there. it was similar equipment to what we had- it was computerized contact printing equipment. He wanted to know if I would go over and take a look at it. He said to me, It's an NSA facility. At the time, I didn't Know what the NSA was--I was pretty naive.
I thought he said NASA. So in my mind, for a long time I thought it was a NASA facility that I had gone to, but I remembered him saying NSA and converting it in my own mind to NASA...
Wolfe claims that one day when NSA photographic equipment failed, he was called in to assist them with the critical repair work needed to keep the machines on the job. Coincidentally, Wolfe was the only individual available at the time trained in the type of equipment that had failed. He normally would be crossing lines by venturing into NSA territory.
His security clearance status was raised to enable him to even enter the highly secure laboratory.
Wolfe's heart raced as he entered the here-to-fore forbidden hangar that day, and he was shocked to see the frantic activity in the lab, activities carried out by individuals of many different nations. Wolfe had naturally thought that only American citizens would be in the NASA lab, but there were many individuals with guest name tags on, and obviously from foreign countries present this day, inferring that they were there on a temporary basis for some special occasion.
He felt a sense of panic as to his mission. Whatever he was called in for was of the utmost importance. He was told that the equipment in question was in a nearby dark room. As he was led into the room, only the red glow of a safety light greeted him at first, but in a moment, he could make out the figure of one airman who manned the dark room.
Wolfe knew that the image processing equipment would have to be removed to be repaired, and he also knew that the diagnostics on this type of equipment would take some time to finish.
Arrangements were quickly made for the photographic equipment to be taken to another secure location for Wolfe to begin the painstaking task of troubleshooting the problem. As Wolfe waited for transport to arrive, he began to chat with the other airman. Wolfe carefully asked why the NASA work was being done at Langley and not NASA in Houston.
It was then that he was told that all of the NASA image information was downloaded to Langley, enhanced and made into the finished photographs that were then studied by different branches of the Armed Forces. The dark room attendant began to explain to Wolfe just what all the secrecy was about.
Wolfe was told that recent enhanced images had surprisingly, yet clearly shown structures on the surface of the dark side of the Moon. Structures that definitely were not created by natural means, such as meteors, or ancient collisions with other heavenly bodies. The structures were created by intelligent beings.
"We discovered," the airman said, "a base of the back side of the Moon."
Wolfe was obviously stunned by this extraordinary disclosure. He remembers literally "shaking" trying to take in the enormity of what he had been told. Seeing Wolfe's disbelief, the dark room attendant continued;
"Yes, a base on the dark side of the Moon."
Although the attendant had not actually said that the structures were not created by inhabitants of Earth, it seemed to go without saying. Wolfe was still in amazement as he was now looking down at the very photographs he was trying to envision in his mind. Bending down under the red glowing lamp, he was seeing what so very few would see. He could clearly make out geometric shapes, well organized, and well designed.
Most noticeable to him were what looked exactly like radar antennas, very similar to what one could see on Earth. There was no doubt now in Wolfe's mind why the odd complement of scientists and investigators were in attendance at this place on this day. They had arrived to see and study what he was looking at now; structures made by intelligent beings on the Moon.
Questions flooded his mind now; Could Russia have made these structures, putting the first flag on the lunar surface? Could this be a joint venture of some kind? If so, by whom? Americans and aliens? Whomever was the creator, Wolfe felt like he had been caught stealing, or with his hand in the cookie jar. He was NOT supposed to see these photographs.
He could be arrested, or worse. He just wanted to do his job, leave, and never mention it again. Wolfe did finish the job he was commissioned to do, keeping the memories of that day dormant in his mind, and went on with his life.
Wolfe, however, was haunted by the images he saw that day for many years to come. After he left the active service, his security clearance prohibited him from leaving the United States for five years, and he was sworn to keep what he had seen to himself. It would be thirty years before he told anyone about that unforgettable day.
For the year that Wolfe saw the remarkable structures on the dark side of the Moon was 1965, four years before Neil Armstrong put the first footprint on the lunar surface. Or was it the first?'
From UFO Casebook @ http://www.ufocasebook.com/moonstructures.html

Finally, film evidence has come to light proving that NASA has been airbrushing out anomalous objects on the moons surface! We have believed and written about this claim since 1999, but many pro-NASA believers said we were wrong - this new evidence proves otherwise!
During

The Disclosure Project

press conference, former NASA employee, Donna Hare, revealed how NASA managed to cover up and erase anomalies such as UFOs from satellite photos. She was a female slide technician and received numerous space awards including 1969 Apollo Achievement award from the National Aeronautics and Space Administration, 1973 Skylab award, a medallion for success on the Skylab-Suez Test project.
Other awards for her skill as a technical Artist includes a 1994 recommendation by Texas Governor Ann Richards to the Advisory Committee of Psychology Associates.

Donna Hare (formerly Tietze) has spent most of her professional life involved in the Space Program as a technical illustrator. She drew lunar maps, landing slides and worked in the photo lab, Precision Slide Lab. Her job was to reduce art work to one inch by one inch drawings.
She drew launch sites, landing sites and was employed as a sub-contractor to NASA for over 15 years. She worked on flight manuals for astronauts and has the wonderful ability to put words into images but uniquely, learn to do everything backwards, including mathematical computations, the writing of words, to put it simply, this woman has seen just about all the different kinds of images one could see that are used in Space Programs today.

Sergeant Karl Wolfe, is another witness who has come forward to reveal that he also saw NASA photos being altered to erase anomalies on the Moons surface which were filmed from the Lunar Orbiter. He was asked to visit an area of Langley Air Force Base, where he viewed 35mm film images being processed by NSA agents.
He claims that he saw 35mm strips of film which were spliced together to make 18 1/2" x 11" mosaics of the lunar surface for release to the general public. An officer told him that there was a Moon base on the dark side of the Moon and that it was they're job to erase them out.
The film above includes interviews and photo examples where NASA have erased evidence from the Moon photographs.

Donna Hare was interviewed on Washington D.C. Radio Station. The following is a partial transcript of a radio talk show that occurred 5/6/95 on WOL-AM in Washington D.C. which is simulcast on WOLB-AM in Baltimore Maryland. The show is broadcast every Saturday night at 12:00am and is called "UFOs Saturday Night".
Elaine Douglass:
This is Elaine Douglass, WOL News-Talk Network, our show is UFOs Saturday Night and I'm here in the studio with Keith Morgan and our topic is the Face On Mars. We have a new guest on the air with us, Donna Tietze... Donna, you are also with three scientists who are on the air with us and that would be Stan McDaniels from California, Errol Toron from the east coast and Dan Drason whose in Colorado.
The reason that I asked Donna to come on the show, Donna is in Houston, Texas and kind enough to join us tonight to tell us some very interesting things she observed while working at NASA. Donna is an educator and she is working on her Masters in Education. In the past Donna, as I understand that you held a position for 15 years with a contractor at the NASA Johnson Space Center in Houston. You were a photo technician?

Donna Tietze: Correct!

E.D.: Donna welcome to UFOs Saturday Night. Tell me and tell everyone the incident that you recall as they say in the law court, did there come a time when you walked in a photo lab and someone told you something quite astounding? What happened that day?

D.T.: Yes Elaine, that's true. During the Apollo mission I worked at NASA throughout those Apollo missions and I did leave NASA at the time the space shuttles began. I worked in building eight in the photo lab. I had a secret clearance so I thought I could go anywhere in the building. And I did go into one area that was a restricted area. In this area they developed pictures taken from satellites and also all of the missions, the Apollo missions, flight missions. I went in and I was talking to one of the photographers and developers and he was putting together a mosaic which is a lot of photos, smaller photos into a larger photo pattern.
And while I was in there I was trying to learn new methods and new things about the whole organization and I was looking at the pictures and he directed my attention to one area, he said, Look at that. I looked and there was a round oval shaped, well it was a very white circular shape of a dot and I, it was black & white photography, so I asked him if that was a spot on the emulsion and he said, "Well I can't tell you, but spots on the emulsion do not leave round circles of shadows."

E.D.: So there was a shadow on the ground?

D.T.: Right, a round shadow! And I noticed that there were pine trees, now I don't know where this area was or what, you, pretty close to the ground what I saw but I didn't see outline of the continent. But I did notice that there was shadow under this white dot and I also noticed that the trees were casting the shadows in the same direction as this shadow of the circle of this aerial phenomena because it was higher than the trees but not too much higher than the trees but it was close to the ground and it was spherical but slightly elongated, not very much but slightly.
I then said, is it a UFO? And he said,
"Well I can't tell you." And then I asked him, "What are you going to do with this piece of information?" And he said, "Well we have to airbrush these things out before we sell these photographs to the public."
So I realized at that point that there is a procedure setup to take care of this type of information from the public.

E.D.: Isn't that remarkable gentlemen?

Stan McDaniels: Elaine, I was unable to really hear very much of that.

E.D.: Oh really?

<="" b="">I did catch air brush it out.

E.D.: Alright, Stan can you hear this station break coming up?

<="" b="">Uh, sure.

E.D.: So alright, we are going into that, we'll be back in just a couple of minutes
<="" b="">E.D.: Erol Toron, you are here?

E.T.: I'm still here

E.D.: Alright fine, Stan you said you could not hear the account that Donna gave?

<="" b="">Not very well.

E.D.: Alright, Keith would you like to recapitulate what Donna said?

Keith Morgan: Stan, what she said was that she was in the photo lab at NASA and that she was looking at some photos and one showed an elliptical, white object that was casting a shadow on the ground above some trees and the technician in there, she asked him if it was a UFO? He said "I can't tell you." She said what are you going to do with this kind of information? He said "Well that is the kind of stuff that we airbrush out."

<="" b="">Oh I see, thanks for that!

E.D.: So Donna that's approximately, essentially correct what you said, right?

D.T.: Right!

E.D.: Yes well I, Stan I think that's quite startling, don't you?

<="" b="">Its speaks for itself.

E.D.: Yes it certainly does, Now Donna there is another matter that you learned about when you were there at NASA. I believe this was through a third party, a person that you were spending some time with who was a fellow NASA employee?

D.T.: Right, in fact after we talked, I thought about another incident with a guard that I would like to convey too that's very important. This man that I had dated was in quarantine with the astronauts when they had come back from the moon and I had talked to him about seeing this saucer (satellite photos) and asked him if he had heard anything about that and he told me that every astronaut, every moon trip had been followed by craft, by saucers, that every one of them, every astronaut that went to the moon, now I don't know about other sites but they all had seen it and all had been told to keep quite about it and they were threatened with jail and their whole retirement, everything taken away from them. They were also, this told me that if I ever told that he said it, that he would deny it, that he would never admit that he told me all of that.

E.D.: Did you hear that Stan?

S.McD: No

E.D.: Alright, ah, go ahead Keith, recapitulate. (Keith repeats everything of that part that Donna Tietze stated, to McDaniel)

S.McD: Oh yes I see

E.D.: Yes and I believe that Donna you related to me, your friend came to believe that the UFOs were instrumental in getting Apollo 13 that was, ah, our disabled mission to the moon, was it 13?

D.T.: Right, well he said that it shouldn't have come back, I mean, there was no, ah, they had help. And that was all he would say.

E.D.: All he would say?

D.T.: He said it was impossible for that craft to have gotten back home

E.D.: Donna you said that there was another matter that you wanted to relate to us.

D.T.: Yes, something that I didn't talk to you about earlier. When I had quite work, I had an office, I was doing illustration work at another office, in another part of town. And a man that had been a guard at NASA during the time came into my office and he had a large gash scar on his forehead and he told me that he was a guard at NASA and that he was burning a lot of photographs of UFOs. That was his job.

E.D.: Really (surprised)

D.T.: And he said he stopped to look at one too long and one of the others, I gathered it was some type of military man, hit him in the head with a gun butt and knocked him out.

E.D.: What? (shocked)

D.T.: Because he had looked at one of the photographs too long, he did describe the photograph to me which I tend to believe was an accurate photograph.

E.D: Oh, my god!

D.T.: He explained that it was a craft on the ground and it looked like, it was like a regular saucer with like little bumps all over and he said it was like it was burnt. He said cows in the field all had their tails stuck straight up. At the time he said he didn't know when cattle were frightened, that their tails would stick straight up. And he described this to me and since then, I did describe it to someone that I thought might have looked at some of these photos, possibly and they did look kind of frightened that I should know about that one. (the next several minutes later the conversation is more about UFOs following Apollo crafts to the moon)

E.D.: The second part of her account had to do with the stalking of our space mission by UFOs of our space missions to the moon and so on. She even said that they apparently helped in one case by bringing the Apollo 13 back, that was the impression that she got and..

D.T.: Yes but they (aliens) also didn't want that craft to investigate the part of the moon that they were going to, so they may have caused some of it too, but it was supposed, we were told not to go but we ignored it. Now that's what I've heard, that some of the stuff he was telling me.

E.D:. Did he say that, your direct contact?

D.T.: Yes!

E.D.: That the United States was told not to go to the moon?

D.T.: To that certain place on the back side of the moon.

E.D.: And did he know why we weren't supposed to go there?

D.T.: I guess they didn't want us to see something back there, I don't know, I don't know that part. (interview winds down a few minutes later and the show is out of time)


From Bibliotecapleyades @ http://www.bibliotecapleyades.net/luna/esp_luna_27.htm
For more information about lunar anomalies see http://nexusilluminati.blogspot.com/search/label/moon
- See 'Older Posts' at the end of each section
YOU can help this unique independent website's author survive in a small cabin in a remote rainforest
Donate
any amount and receive at least one New Illuminati eBook!
Please press the button -
Xtra Images – http://www.marsanomalyresearch.com/evidence-reports/2004/067/2-067-2towers-closer.jpg
http://www.puppiesandflowers.com/oct2007/nasaScam.jpg
DISGRUNTLED SITE ADMINS PLEASE NOTE –
We provide a live link to your original material on your site - which raises your ranking on search engines and helps spread your info further!
This site is published under Creative Commons Fair Use Copyright (unless an individual article or other item is declared otherwise by copyright holder) – reproduction for
non-profit use is permitted & encouraged, if you give attribution to the work & author - and please include a (preferably active) link to the original (along with this or a similar notice).
Feel free to make non-commercial hard (printed) or software copies or mirror sites - you never know how long something will stay glued to the web – but remember attribution! If you like what you see, please send a donation (no amount is too small or too large) or leave a comment – and thanks for reading this far…