Half the Planet Has Been Killed in Half a Human Lifetime
How long will it take to kill everything?
Earth has lost half of its wildlife in the past 40 years, says WWF
Species across land, rivers and seas decimated as humans kill for food in unsustainable numbers and destroy habitats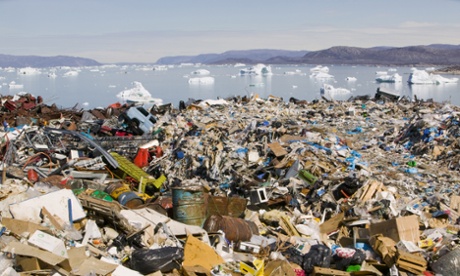 Photograph: Global Warming Images/WWF-Canon
The number of wild animals on Earth has halved in the past 40 years
, according to a new analysis. Creatures across land, rivers and the seas are being decimated as humans kill them for food in unsustainable numbers, while polluting or destroying their habitats, the research by scientists at WWF and the Zoological Society of London found.
"If half the animals died in London zoo next week it would be front page news," said Professor Ken Norris, ZSL's director of science. "But that is happening in the great outdoors. This damage is not inevitable but a consequence of the way we choose to live." He said nature, which provides food and clean water and air, was essential for human wellbeing.
"We have lost one half of the animal population and knowing this is driven by human consumption, this is clearly a call to arms and we must act now," said Mike Barratt, director of science and policy at WWF. He said more of the Earth must be protected from development and deforestation, while food and energy had to be produced sustainably.
The steep decline of animal, fish and bird numbers was calculated by analysing 10,000 different populations, covering 3,000 species in total. This data was then, for the first time, used to create a representative "Living Planet Index" (LPI), reflecting the state of all 45,000 known vertebrates.
"We have all heard of the FTSE 100 index, but we have missed the ultimate indicator, the falling trend of species and ecosystems in the world," said Professor Jonathan Baillie, ZSL's director of conservation. "If we get [our response] right, we will have a safe and sustainable way of life for the future," he said.
If not, he added, the overuse of resources would ultimately lead to conflicts. He said the LPI was an extremely robust indicator and had been adopted by UN's internationally-agreed Convention on Biological Diversity as key insight into biodiversity.
A second index in the new Living Planet report calculates humanity's "ecological footprint", ie the scale at which it is using up natural resources. Currently, the global population is cutting down trees faster than they regrow, catching fish faster than the oceans can restock, pumping water from rivers and aquifers faster than rainfall can replenish them and emitting more climate-warming carbon dioxide than oceans and forests can absorb.
The report concludes that today's average global rate of consumption would need 1.5 planet Earths to sustain it. But four planets would be required to sustain US levels of consumption, or 2.5 Earths to match UK consumption levels.
The fastest decline among the animal populations were found in freshwater ecosystems, where numbers have plummeted by 75% since 1970. "Rivers are the bottom of the system," said Dave Tickner, WWF's chief freshwater adviser. "Whatever happens on the land, it all ends up in the rivers." For example, he said, tens of billions of tonnes of effluent are dumped in the Ganges in India every year.
As well as pollution, dams and the increasing abstraction of water damage freshwater systems. There are more than 45,000 major dams – 15m or higher – around the world. "These slice rivers up into a thousand pieces," Tickner said, preventing the healthy flow of water. While population has risen fourfold in the last century, water use has gone up sevenfold. "We are living thirstier and thirstier lives," he said.
But while freshwater species such as the European eel and the hellbender salamander in the US have crashed, recoveries have also been seen. Otters were near extinct in England but thanks to conservation efforts now live in every county.
The number of animals living on the land has fallen by 40% since 1970. From forest elephants in central Africa, where poaching rates now exceed birth rates, to the Hoolock gibbon in Bangladesh and European snakes like the meadow and asp vipers, destruction of habitat has seen populations tumble. But again intensive conservation effort can turn declines around, as has happened with tigers in Nepal.
Marine animal populations have also fallen by 40% overall, with turtles suffering in particular. Hunting, the destruction of nesting grounds and getting drowned in fishing nets have seen turtle numbers fall by 80%. Some birds have been heavily affected too. The number of grey partridges in the UK sank by 50% since 1970 due to the intensification of farming, while curlew sandpipers in Australia lost 80% of their number in the 20 years to 2005.
The biggest declines in animal numbers have been seen in low-income, developing nations, while conservation efforts in rich nations have seen small improvements overall. But the big declines in wildlife in rich nations had already occurred long before the new report's baseline year of 1970 – the last wolf in the UK was shot in 1680.
Also, by importing food and other goods produced via habitat destruction in developing nations, rich nations are "outsourcing" wildlife decline to those countries, said Norris. For example, a third of all the products of deforestation such as timber, beef and soya were exported to the EU between 1990 and 2008.
David Nussbaum, chief executive of WWF-UK said: "The scale of the destruction highlighted in this report should be a wake-up call for us all. But 2015 – when the countries of the world are due to come together to agree on a new global climate agreement, as well as a set of sustainable development goals – presents us with a unique opportunity to reverse the trends.
"We all – politicians, businesses and people – have an interest, and a responsibility, to act to ensure we protect what we all value: a healthy future for both people and nature."
It's time to shout stop on this war on the living world
Our consumption is trashing a natural world infinitely more fascinating and intricate than the stuff we produce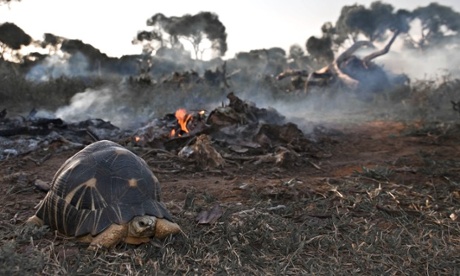 Photograph: Gemma Catlin//Rex features
This is a moment at which anyone with the capacity for reflection should stop and wonder what we are doing.
If the news that in the past 40 years the world has lost over 50% of its vertebrate wildlife (mammals, birds, reptiles, amphibians and fish) fails to tell us that there is something wrong with the way we live, it's hard to imagine what could. Who believes that a social and economic system which has this effect is a healthy one? Who, contemplating this loss, could call it progress?
In fairness to the modern era, this is an extension of a trend that has lasted some 2 million years. The loss of much of the African megafauna – sabretooths and false sabretooths, giant hyaenas and amphicyonids (bear dogs), several species of elephant – coincided with the switch towards meat eating by hominims (ancestral humans). It's hard to see what else could have been responsible for the peculiar pattern of extinction then.
As we spread into other continents, their megafauna almost immediately collapsed. Perhaps the most reliable way of dating the first arrival of people anywhere is the sudden loss of large animals. The habitats we see as pristine – the Amazon rainforest or coral reefs for example – are in fact almost empty: they have lost most of the great beasts that used to inhabit them, which drove crucial natural processes.
Since then we have worked our way down the foodchain, rubbing out smaller predators, medium-sized herbivores, and now, through both habitat destruction and hunting, wildlife across all classes and positions in the foodweb. There seems to be some kink in the human brain that prevents us from stopping, that drives us to carry on taking and competing and destroying, even when there is no need to do so.
But what we see now is something new: a speed of destruction that exceeds even that of the first settlement of the Americas, 14,000 years ago, when an entire hemisphere's ecology was transformed through a firestorm of extinction within a few dozen generations, in which the majority of large vertebrate species disappeared.
Many people blame this process on human population growth, and there's no doubt that it has been a factor. But two other trends have developed even faster and further. The first is the rise in consumption; the second is amplification by technology. Every year, new pesticides, fishing technologies, mining methods, techniques for processing trees are developed. We are waging an increasingly asymmetric war against the living world.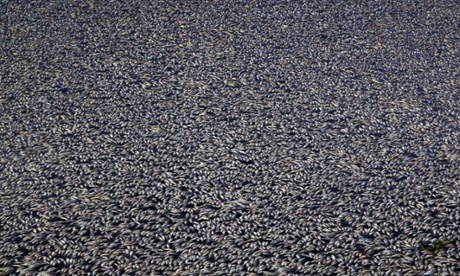 Photograph: Hector Guerrero/AFP/Getty Images
But why are we at war? In the rich nations, which commission much of this destruction through imports, most of our consumption has nothing to do with meeting human needs.
This is what hits me harder than anything: the disproportion between what we lose and what we gain. Economic growth in a country whose primary and secondary needs have already been met means developing ever more useless stuff to meet ever fainter desires.
For example, a vague desire to amuse friends and colleagues (especially through the Secret Santa nonsense) commissions the consumption of thousands of tonnes of metal and plastic, often confected into complex electronic novelties: toys for adults. They might provoke a snigger or two, then they are dumped in a cupboard. After a few weeks, scarcely used, they find their way into landfill.
In a society bombarded by advertising and driven by the growth imperative, pleasure is reduced to hedonism and hedonism is reduced to consumption. We use consumption as a cure for boredom, to fill the void that an affectless, grasping, atomised culture creates, to brighten the grey world we have created.
We care ever less for the possessions we buy, and dispose of them ever more quickly. Yet the extraction of the raw materials required to produce them, the pollution commissioned in their manufacturing, the infrastructure and noise and burning of fuel needed to transport them are trashing a natural world infinitely more fascinating and intricate than the stuff we produce. The loss of wildlife is a loss of wonder and enchantment, of the magic with which the living world infects our lives.
Perhaps it is misleading to suggest that "we" are doing all this. It's being done not only by us but to us. One of the remarkable characteristics of recent growth in the rich world is how few people benefit. Almost all the gains go to a tiny number of people: one study suggests that the richest 1% in the United States capture 93% of the increase in incomes that growth delivers. Even with growth rates of 2 or 3% or more, working conditions for most people continue to deteriorate, as we find ourselves on short contracts, without full employment rights, without the security or the choice or the pensions their parents enjoyed.
Working hours rise, wages stagnate or fall, tasks become duller, more stressful and harder to fulfill, emails and texts and endless demands clatter inside our heads, shutting down the ability to think, corners are cut, services deteriorate, housing becomes almost impossible to afford, there's ever less money for essential public services. What and whom is this growth for?
It's for the people who run or own the banks, the hedge funds, the mining companies, the advertising firms, the lobbying companies, the weapons manufacturers, the buy-to-let portfolios, the office blocks, the country estates, the offshore accounts. The rest of us are induced to regard it as necessary and desirable through a system of marketing and framing so intensive and all-pervasive that it amounts to brainwashing.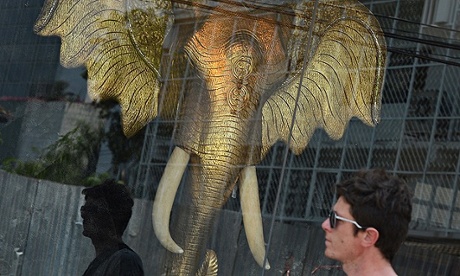 Photograph: Pornchai Kittiwongsakul/AFP/Getty Images
A system that makes us less happy, less secure, that narrows and impoverishes our lives, is presented as the only possible answer to our problems. There is no alternative – we must keep marching over the cliff. Anyone who challenges it is either ignored or excoriated.
And the beneficiaries? Well they are also the biggest consumers, using their spectacular wealth to exert impacts thousands of times greater than most people achieve. Much of the natural world is destroyed so that the very rich can fit their yachts with mahogany, eat bluefin tuna sushi, scatter ground rhino horn over their food, land their private jets on airfields carved from rare grasslands, burn in one day as much fossil fuel as the average global citizen uses in a year.
Thus the Great Global Polishing proceeds, wearing down the knap of the Earth, rubbing out all that is distinctive and peculiar, in human culture as well as nature, reducing us to replaceable automata within a homogenous global workforce, inexorably transforming the riches of the natural world into a featureless monoculture.
Is this not the point at which we shout stop? At which we use the extraordinary learning and expertise we have developed to change the way we organise ourselves, to contest and reverse the trends that have governed our relationship with the living planet for the past 2m years, and that are now destroying its remaining features at astonishing speed?
Is this not the point at which we challenge the inevitability of endless growth on a finite planet? If not now, when?
From The Guardian @ http://www.theguardian.com/environment/2014/sep/29/earth-lost-50-wildlife-in-40-years-wwf and Monbiot.com via http://www.theguardian.com/environment/georgemonbiot/2014/oct/01/george-monbiot-war-on-the-living-world-wildlife
For more about the murder of Gaia see http://nexusilluminati.blogspot.com/search/label/ecocide
- Scroll down through 'Older Posts' at the end of each section
Hope you like this not for profit site -
It takes hours of work every day by a genuinely incapacitated invalid to maintain, write, edit, research, illustrate and publish this website from a tiny cabin in a remote forest
Like what we do? Please give anything you can -
Contribute any amount and receive at least one New Illuminati eBook!
(You can use a card securely if you don't use Paypal)
Xtra images – https://c2.staticflickr.com/4/3185/2841880095_fa0b5f38c7_z.jpg?zz=1
https://c2.staticflickr.com/4/3150/2931185862_36c24f4ea0_b.jpg
DISGRUNTLED SITE ADMINS PLEASE NOTE –
We provide a live link to your original material on your site (and links via social networking services) - which raises your ranking on search engines and helps spread your info further!
This site is published under Creative Commons Fair Use Copyright (unless an individual article or other item is declared otherwise by the copyright holder). Reproduction for
non-profit use is permitted & encouraged,

- if you give attribution to the work & author. Please include a (preferably active) link to the original (along with this or a similar notice).
Feel free to make non-commercial hard (printed) or software copies or mirror sites - you never know how long something will stay glued to the web – but remember attribution!
If you like what you see, please send a donation (no amount is too small or too large) or leave a comment – and thanks for reading this far…
Live long and prosper! Together we can create the best of all possible worlds…